Integrate Anything with WooCommerce. Revolutionize Everything.
Everything improves when ecommerce is connected to every system in your business. Integrate WooCommerce with your entire tech stack—including CRM, marketing automation, ERP, PIM, POS, accounting apps, and more—to increase sales, simplify operations, improve customer experience, and grow your business.
Unify Your Tech Stack with Synchrostack
Synchrostack is forging a better way for businesses using WooCommerce—eliminating time lost to data entry, lack of closed loop analytics, costly errors due to incorrect data, and missed marketing and sales opportunities.
Revolutionize the way you work by eliminating data silos in your tech stack and creating a more powerful whole. Synchrostack enables you to connect WooCommerce to any system in your business so you can:
Slash the manual labor needed to move data between systems
Eliminate costly errors by ensuring everyone in your organization uses the same data when making business decisions
Gain a single customer view through all of their interactions with your business
Connect online and in-store buying to create a seamless customer experience
Execute smarter, more contextual marketing based on real-time customer data to drive sales and increase your lifetime value of customer
Synchrostack is for businesses demanding enterprise-calibre integration of multiple systems with WooCommerce.
Integrating WooCommerce with HubSpot and NCR Counterpoint POS has been a game-changer for Bishop's Cellar. Having doubled our customer base and product portfolio in the last five years, maintaining two sets of data became unmanageable and time consuming for our team. By connecting our tech stack with Synchrostack, we've shifted that energy to better serving customers—including delivering better promotions based on their tastes and interests and providing them with a seamless experience in-store and online.

Matt RogersPresident, Bishop's Cellar
How Synchrostack Works
Make your disconnected tech stack a thing of the past. With Synchrostack, the power is in the middle, making it possible to integrate any system with WooCommerce. Configure connectivity with common systems or build custom connectivity for specialized systems.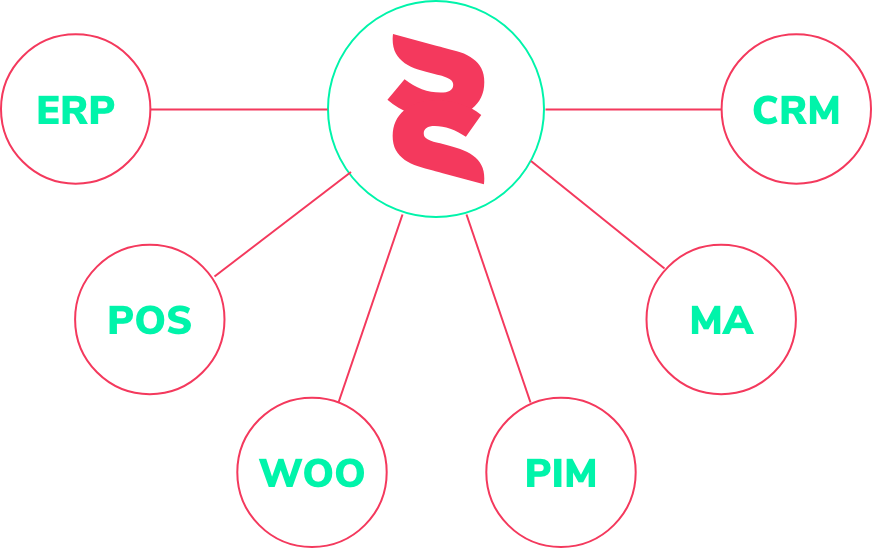 ERP

- Sync your ecommerce with your organization's financials, supply chain, operations, reporting, and manufacturing to achieve streamlined operations.

POS

- Provide a seamless customer experience in-store and online and gain a single view of customer with omnichannel buying behavior.

PIM

- Keep product information accurate and up-to-date seamlessly from a central location.

Marketing Automation

- Use ecommerce activity to power better marketing programs and close more online sales through abandoned cart nurturing and contextual content.

CRM

- Gain visibility into all customer activity to fuel smarter sales and marketing activity and increase your lifetime value of customer.

Accounting Apps

- Reduce manual data entry and accounting errors by syncing order data and creating purchase orders automatically.
Silver
Up to 200,000 API Calls Per Month
Contacts, Products & Orders
24x7 Ticketing Support
Most Popular
Gold
Up to 500,000 API Calls Per Month
Contacts, Products & Orders
24x7 Ticketing Support
Platinum
Tiered API Calls Per Month
Contacts, Products, Orders, and Custom Data
24x7 Ticketing Support
Phone Support
Get Started with Synchrostack
It's time to revolutionize the way you work and realize the benefits of WooCommerce integrated with everything. Fill out the form to find out how you can get started with Synchrostack.